In our humble opinion, core exercises and yoga go together like peaches and cream.  Why do we think they go together? It's simple. Core and yoga compliment the other.  Put another way, the better you become at one, the better you'll be at the other.  More importantly, core and yoga are an absolute MUST-DO for all competitive or recreational endurance athletes.  The benefits are immense and boil down to improving comfort and performance in any sport.
Core Exercises
What's the big deal about core?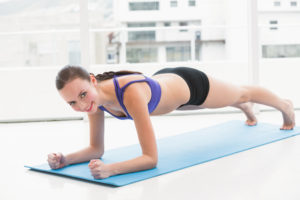 In the past, traditional strength training programs for athletes focused on conditioning the main instruments of specific sports with the notion that fitter legs run and ride better, stronger arms swim faster, etc.  Over the past few decades, experience from rehabilitating people with back injuries highlighted the importance of strengthening the central muscles of the trunk, aka "core muscles".  More importantly, it was recognized that only specific and unique exercises reconditioned these muscles after injury.
Click here to get our free eBook on core exercises
Lessons learned from physical therapy were soon applied in sports medicine not only with rehabilitation of sports injury but also improving performance.  What has been generally recognized and accepted in working with athletes is that the core muscles act as a base of action for the arms and legs.  Hence, the stronger and more stable the core, the more optimal an athlete's control over the production and transfer of power to the limbs.  Put another way, the core is the basis for all movement whether sports-related or not.  Numerous studies have shown the benefit of core exercises for athletes including increased performance, endurance and resistance to injury.  One study even showing that core exercises reduce blood lactate values following exercises. 
What EXACTLY is the "core"!?
In the most general sense, the core muscles are the skeletal muscles of the torso.  These muscles include the pelvic floor muscles, transversus abdominis, multifidus, internal and external obliques, rectus abdominis, erector spinae, latissimus dorsi, gluteus maximus, and trapezius.  Some experts even include the diaphragm.  The core muscles work together provide stability of the body in all 3 possible planes of movement.
How to do core exercise
There are numerous core exercises out there.  Strengthening the core does not need to take up a ton of time or add to the stress of an already full training regimen.  About 10-15 minutes per session 2-3 times a week is all you'll need to see benefits.  In our experience, athletes will see boosted speed and endurance as a direct result of improved comfort. 
Click here to get our free eBook on core exercises
Yoga
History of yoga in a nutshell
In a broad sense, yoga includes a series of practices that include breath control, meditation and the performance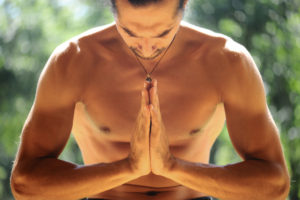 of unique body positions.  Yoga likely developed between the 6th and 5th centuries BCE in India and has ties not only to Hinduism but also Buddhism. In Eastern traditions, yoga still has strong ties to spirituality and can even encompass mystical ideas that many westerners would find very foreign.  Some of these mystical ideas include pathways to omniscience and techniques for entering into other bodies. Yoga first travelled to the west in the late 19th and early 20th centuries.  It wasn't until practitioner began focusing on the body position facet that yoga became popular as a form of exercise in the 1980's. 
Why would an athlete want to do this?
Numerous studies have validated the benefits of yoga.  In general, these benefits include improved muscular fitness and stress reduction.  Additional benefits specifically pertaining to athletes include reduced oxygen consumption (i.e. it MAY make you go faster with less effort), reduced muscle soreness following exercise and improved mental focus.
How to do yoga
Performing yoga can be intimidating for the uninitiated.  You can jump into various classes at your local gym or yoga studio.  For most endurance athletes, however, a session of yoga does not need to be difficult.  It can often be done alone at home and in less than 15 minutes.  You'll find yoga beneficial as a pre or post-workout ritual.  We recommend doing it at least several times a week following your most stressful workouts.
We searched the internet high and low to find a few good resources for you:
The guys at Endurance Yoga put together a quick little routine for endurance athletes on YouTube:
Edward Heseltine of Cycling Yoga has a whole series on yoga for cyclists:
Go ahead and give core exercises and yoga a shot for a month or two.  Two to three days a week for a half-hour or less is all you need (more is great).  It won't take away from time from sport specific training.  We're willing to bet that you'll see significant gains (if nothing else you'll have sexy abs!). If you don't see benefits, then give us a shout.  On the other hand, if you do see nice changes, we'd REALLY like to hear about it.