What you need to know to stay protected
With summer quickly approaching, we begin to look forward to the warmer temperatures and being able to enjoy being outside again. But with the warmer temperatures and increase in outdoor activities such as running and cycling, comes the risk of sun exposure and skin cancer. So what is the risk of skin damage due to sun exposure and what can be done to prevent it?
Even though we are always at risk for sunburn regardless of the season, spring and summer is the time of year when the risk of sunburn is greatest. As the days grow longer, the sun's UV rays become stronger and have more tendency to burn any exposed skin, especially when the sun's rays at their strongest peak between 10 AM and 4 PM. Sweating due to physical exertion or swimming can also contribute to UV-related skin damage as it increases the photo-sensitivity of our skin, which facilitates to an increased risk of skin cancer.
Check out these convenient infographics about sun exposure and athletic performance
Risk of Skin Cancer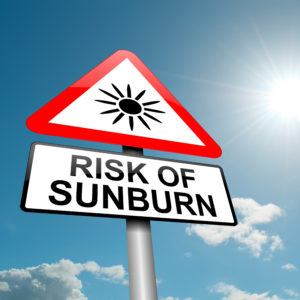 Overall, skin cancer is most diagnosed form of cancer, with 1 in 5 Americans diagnosed in the course of a lifetime. According to the Skin Cancer Foundation, there are more diagnosed cases of skin cancer than the diagnoses of breast, colon, and prostrate cancer combined. Typically, the type of cancer that comes from increased sun exposure is basal cell carcinoma. These are uncontrolled skin growths or lesions that are caused by increased or intense bouts of sun exposure. They rarely metastasize or spread, though can be disfiguring if one is not treated quickly. However, due to increased time outside, sweating, and exercise-induced immunosuppression, athletes are more prone to the more aggressive types of skin cancer, such as squamous and melanoma. Squamous cell carcinoma looks like red sores, warts, or open sores and may crust over or bleed. They are disfiguring and if not treated, can become deadly. Melanoma is the result of cancerous growths due to high amounts of UV radiation and tanning beds. Though they resemble moles, they are actually abnormal skin growths that have the ability to trigger mutations and create cancerous tumors. Melanoma kills over 9,700 people in U.S. each year, making this the most deadly form of skin cancer.
Should we then forget going outside so as not to increase our risk of skin cancer? Definitely not, but there are ways to prevent sun burns and greatly reduce our chances of skin cancer.
Take a look at this article to more precisely determine sunburn risk for your area
 How to Stay Protected
First, try to change your outdoor routines to mornings or evenings. Since the sun's rays are at their strongest between 10 AM and 4 PM, it is recommended to exercise or do outside chores either in the early mornings or late evenings. If you're outside, try to stay in the shade as much as possible, especially between 10 AM and 4 PM if you can't go inside. Wearing protective clothing while outside is a great idea too. Light, long-sleeved shirts, short-sleeved shirts, hats, light workout pants, and UV-blocking sunglasses serve as great protective clothing for working or playing outdoors.
Try Doc's Natural Sunscreen
Doc's works great and uses safe & natural minerals
Finally, and most importantly, use sunscreen on any exposed skin. Even if the outside chore is just 15 minutes, it doesn't take long for the sun to burn skin. In fact, it only take 10 minutes of sun exposure before unprotected skin burns, so using sunscreen is very important to use when outside.
Finding the right type of sunscreen is important too. Sunscreen is measured in SPF or Sun Protection Factor. SPF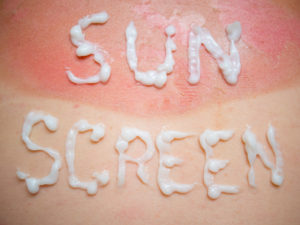 tells us how strong the it is at protecting from UVB rays, though it doesn't say how well it protects against UVA rays, which can be as dangerous. However, dermatologists recommend that a SPF 30 or higher sunscreen should be used, especially for people who have an increased exposure in the sun. An SPF 15 sunscreen blocks out around 93% of the rays that hits the skin whereas SPF 30 blocks out 97% and SPF 50 blocks out 98%. For those who are light-sensitive or have a history of skin cancer, these numbers are significant and should be taken seriously. Since sunscreens vary in their protection of both UVB and UVA rays, using a broad spectrum sunscreen is highly recommended.
Learn how sunscreens work and why natural sunscreens are the way to go here
The general amount of sunscreen used is recommended to be 1 oz. An easy way to remember how much this is to imagine measuring out a shot glass or more full of sunscreen onto your skin and working it in. Under applying sunscreen is very easy to do, but doing so greatly lessens the duration of protection and increases the chance of skin damage. It is recommended to apply sunscreen 15 minutes before heading outside for it to take full effect. Reapply every 90 minutes that you are outside or more frequently if swimming or sweating profusely. Sunscreen is only water-resistant, not water-proof, so it needs to be reapplied accordingly as you sweat.
Recap
Since this is a lot of information, let's recap. With summer around the corner, many of us are going to be heading outside to exercise or do outside chores. With that, comes an increased chance of skin damage and skin cancer due to exposure to the sun. Because of the increased amount of time athletes spend outside, they are more at risk of getting skin cancer, particularly the most aggressive types squamous and melanoma. In order to prevent skin damage and reduce the chance of skin cancer:
Stay inside between the hours of 10 AM and 4 PM when the sun is strongest; exercise or do chores in the early mornings or late evenings.

Wear protective clothing such as long-sleeve shirts and hats.
Stay in the shade when possible.
Apply an SPF 30 or higher sunscreen 15 minutes before going outside and reapplying every 90 minutes while outside.
Use 1 oz or more of sunscreen every time you apply (remember: a shot glass full of sunscreen equals approximately 1 oz).
Doing these few things will not only protect against the sun's harmful rays, but make summer a time for memories and fun without the threat of skin cancer. So next time you go for a run or ride, don't forget to grab your sunscreen and a hat and keep the risk of skin cancer as minimal as possible.
References:
Skin Cancer Association: http://www.skincancer.org/skin-cancer-information
http://www.skincancer.org/prevention/sun-protection/sunscreen/sunscreens-explained