How to Stretch Yourself Back into Shape
Winter's almost over, so it's time to get active once again. With spring on the horizon, now is the time to put down the remote control, give the video games a rest and get yourself back in shape. Stretching is the best way to get your muscles acclimated to any kind of athletic activity.
Stretching: Some Introductory Tips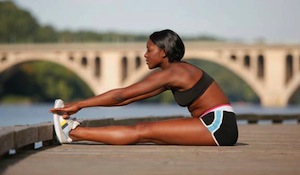 If you've been inactive for the past few months, basic stretching can help you limber up and allow your muscles to acclimate to any activity as well as any unforeseen injuries. Stretching helps you improve your overall circulation as blood gets moving through your whole body helping your muscles repair themselves quicker should you happen to pull them.
Stretching also improves your flexibility as well as muscle elasticity. Greater flexibility will lead to overall better posture, and stretching is also a plus if you suffer from chronic back pain. Stretching muscles such as your quadriceps and hamstrings will help alleviate any back pain.
Most importantly for endurance athletes is all about improving RECOVERY.
Stretching isn't just holding your arms out for ten seconds, there's a lot more to it and there are different types of stretches to help different parts of your body. You should always remember to stretch before and after any type of exercise. Here's a few of the most common stretching methods:
Dynamic stretching is mainly basic movements, such as hip rotations, which help get the body tuned up before any kind of workout; these are slow and gentle movements that help prepare you for any kind of high endurance exercise.
Static stretching is a bit more difficult as you fins a certain position and hold it for up to 60 seconds; you can definitely feel some pulling, but it's a great way to help loosen muscles after any kind of workout.
If you've already warmed up a bit, you may want to venture into Isometric stretching, a form of static stretching that can help develop your muscle tendons and joints. These are the kind of stretches where you can use a wall to help you lengthen your muscles rather effectively.
Sooth muscles with Doc's Muscle Balm
Relief for tired and sore muscles
Why Stretching is so Important
First things first: Take the time to warm up before you stretch. Walk around a bit and get yourself moving before even beginning to stretch…You'll stretch more effectively if you're muscles are warmed up, which helps the blood flow and helps make them more elastic.
If you're getting ready to exercise, you should hold your stretches for no more than 30 seconds as it will prepare your muscles. Once you're done with any activities, you should hold your stretches no more than 60 seconds, to help improve flexibility.
Stretching both sides of your body will also equalize your flexibility; you don't want to focus on just one area, so even it out and give special attention to the muscles that you're stretching. For example, if you're planning on going on a run, then give extra attention to your legs.
Also, the worst thing you can do is bounce while you stretch. Many people do this without realizing that it causes more harm to your muscles than good. Bouncing can actually tear parts of your muscles, which can make your muscles extremely tight and increasing the likelihood of injuries. You'll actually find it hard to make the muscles flexible by bouncing, so it's best to avoid it altogether.
It's very easy to pull muscles; in fact, we tend to take our muscles for granted, thinking that they'll work out any kinks they have. If your muscles should hurt after a workout, try Doc's All Natural Muscle Balm™, which creates a soothing and long lasting warming sensation that will help speed recovery and ease muscle pain.
You have to get into the routine of stretching in order to make it truly effective. It's similar to trying yoga or diving a car for the first time; it's not easy at first, but after a while you'll get the hang of it.
I found this gem of a video on YouTube.  Karena shows a great yoga-based stretching routine that will take less than 10 minutes.  She's targeting triathletes but the stretches work great for triathletes, runners and cyclists alike.