Bringing you some of the best articles from the week in running, cycling, triathlon and endurance sports.
For the second time in two days, the Russian hacker group Tsar Team, also known as "Fancy Bear" has published private medical records from the World Anti-Doping Agency's database — and this time, it's information pertaining to the only two British riders to win the Tour de France, Bradley Wiggins and Chris Froome.
Last Friday I mentioned this humorous Internet thingy from Chicago, which I assume was inspired by this recent editorial in the Chicago Tribune: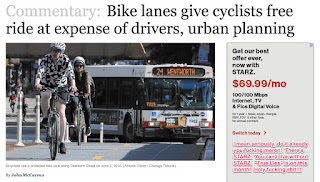 We've now reached a point where there's little meaningful difference between an anti-bike editorial and a pro-bike editorial.  For example, consider the headline:
"Bike lanes give cyclists free ride at expense of drivers, urban planning"
I mean, yeah?  So?  They say that like it's a bad thing.  Even the writer realizes we've reached "peak driving."  Indeed, it's not until the sixth paragraph it becomes clear he's against bike lanes, mostly because they force him to look before making a right turn.

Time trials. They're arguably the most polarising aspect of bike racing. Some riders love the challenge of pacing their effort perfectly, while others detest the pain that TTs inevitably deliver.
If you do any racing yourself, and particularly multi-stage events, you'll almost certainly come face-to-face with the occasional time trial. So what's the best strategy when it comes to pacing your effort, to ensure you get the best out of yourself? And what effect does the course profile have on that pacing strategy?
In the following article Nick Squillari combines real-world experience with recent research findings to help give you a leg-up in your next race against the clock.
At some point, all Kaizen swimmers employ a learning strategy that cognitive scientists refer to as 'chunking.' Chunking refers to grouping separate pieces of information together to facilitate learning by remembering the groups as opposed to a much larger number of individual pieces of information. The types of groups can also act as a memory cue. In TI we group by body segment (head, torso, arms, legs) and skill type (Balance, Core Stability, Streamlining, Propulsion.
We've all had that favorite pair of running shoes that you just can't bring yourself to throw away. But after so many miles, a too-worn shoe will start rebelling and can cause damage to your joints, muscles and bones. Here's how to know when to keep—or ditch—your go-to run kicks.
Along with carbohydrates, endurance athletes need protein to stay healthy. Coach Taylor Thomas explains why and how much protein you need, the different types, and how protein intake may be beneficial during your training and racing.
Training for a full or half marathon takes dedication and discipline, but listening to advice from those who have been through it before can help you avoid mistakes that will hold you back. Allie Burdick has been running for almost 20 years and has her list of top five mistakes to avoid as you prepare to reach your goals.