Every week we sift through the endless pool of articles on the internet to bring you some of the best in running, cycling, triathlon and endurance sports.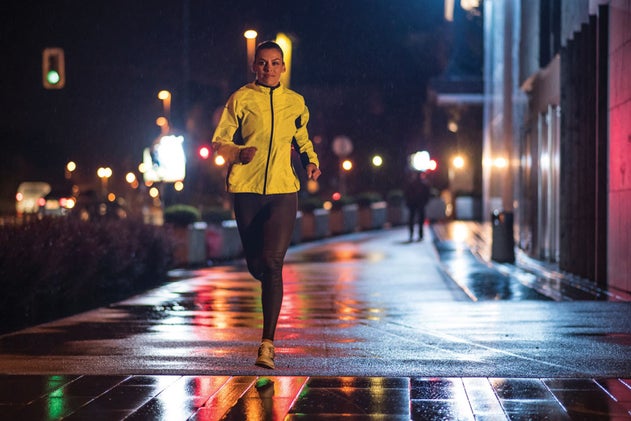 Training in the dark of winter can make you a tougher, more resilient athlete. Here's how.
Running or riding in the dark (and cold, and wet) can sometimes feel like an exercise in sadism. But there may be huge incentives for you to buck up and face the void, says Pat Davidson, Ph.D., a New York City-based exercise physiologist. He points to research conducted at the University of North Texas that found three different markers of endurance tend to be higher at night—which can come as early as 3:43 p.m. for athletes in Maine—so you may be able to go faster and farther with less effort, improving your overall fitness.
Try it at home or the gym.
This strength routine from San Diego's Rehab United co-owner Bryan Hill is focused on endurance, with lower intensity exercises and short rest. Most exercises have the option of being multi-directional to work in all planes of motion, since we triathletes are only accustomed to moving in one direction: forward!
Do three rounds of the following six exercises. Do each exercise continuously for one minute followed by 30 seconds of rest. Rest for two minutes between sets.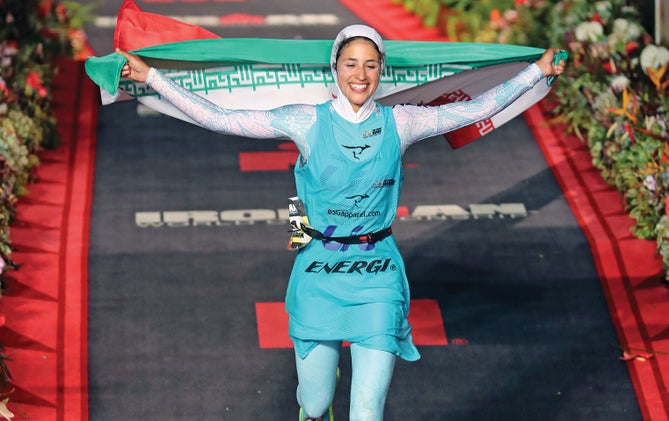 Shirin Gerami triathlete proves it's courage—not clothing—that makes the triathlete.
It was long after midnight when Shirin Gerami sat in London's Hyde Park pondering her fate. In just a few hours, the women set to compete in the 2013 ITU Age Group World Championship would be plunging into the park's Serpentine River. She hoped with all her being she would be among them. Gerami, an Iranian, had spent the past several months petitioning her country's sports ministry to allow her to compete in the race, and still there was no decision. Time was running out, and the fact that no Iranian woman had ever been allowed to formally represent Iran in a triathlon gave her little hope.
Call me crazy but I don't think eating well is
that
hard. Or, maybe I'm doing it wrong because Goldfish and wine are technically not food groups.
That said, I used to weigh about 25 pounds more than I do now. I was in the throws of the late night nachos and beer routine. I viewed food as something that was to be restricted, then I'd go overboard (this was in my pre-running days when a workout was the occasional aerobics class in my leg warmers). Over time, I didn't really diet to lose that weight, but changed my attitude about food. Here are my two tips.